Review Article
Reprogramming of fatty acid metabolism in breast cancer: a narrative review
Introduction
Tumor is the major public health problem worldwide, threatening the human health severely due to its high morbidity and mortality. The latest cancer statistical analysis reveals breast cancer remains the major threat to women health (1). In China, tumor has become the primary reason for death. Due to ageing of the population and arising of the westernized lifestyles, cancer burden is expected to increase in the coming several years. Statistics show that breast cancer incidence rate is rising rapidly (2).
In recent years, metabolic reprogramming is gradually acknowledged as hallmarks of tumor, which provides the basis of substance and energy for all the malignant phenotypes (3,4). Therefore, rewiring the tumor metabolism becomes one of the promising strategies for the target therapy (5,6). Breast cancer grows in the adipocyte-rich environment, involved in the reprogramming of fatty acid metabolism (7,8). In this review, we elucidate the fatty acid metabolism in normal human tissue, altered fatty acid metabolism and the orchestrated process involved in fatty acid metabolism contributing to malignant transformation, providing the comprehensive view of fatty acid metabolism reprogramming in breast cancer, to find the potential strategies for effective breast cancer therapy. We present the following article in accordance with the Narrative reporting checklist (available at http://dx.doi.org/10.21037/tbcr-20-53).
---
Methods
The authors retrieved English articles from the PubMed database up to November 2020, using search strategies with related terms and their combinations, including fatty acid metabolism, fatty acid synthesis, and breast cancer and organized the information to explain the fatty acid metabolism reprogramming in breast cancer.
---
Fatty acid metabolism in normal tissue
Substance and energy metabolism consist the vital basis of all the life activities. As one of the important biological macromolecules, lipid plays the crucial role in biological processes of living things. Lipid are classified into eight categories, including widely acknowledged fatty acids and sterol lipids (9). Fatty acids are important components of lipid. The various functions of lipid are conferred by various species and structures of the head groups and fatty acids, including the structure components and functional basis of biological membranes, energy metabolism and storage, and crucial signal molecules (10,11).
Fatty acid metabolism is composed of anabolism and catabolism, maintaining energy homeostasis. Normal human cells (except for liver cells, adipocyte and lactating breast) acquire lipid through uptake exogenous fatty acids, barely adopting de novo synthesis (12).
Acetyl-CoA is the substrate of de novo fatty acid synthesis. Cytoplasmic acetyl-CoA is derived from different metabolic pathway (13). Citrate generated from tricarboxylic acid (TCA) cycle or glutamine is catalyzed by ATP-citrate lyase (ACLY) to produce acetyl-CoA (14). Acetyl-CoA also can be directly synthesized from acetate catalyzed by acetyl-CoA synthetase (ACSS). Acetyl-CoA carboxylases (ACACs) catalyze acetyl-CoAs to form malonyl-CoA (15). Malonyl-CoAs generate fatty acid building blocks by fatty acid synthase (FASN) (12). SREBP1 and SREBP2, encoding sterol regulatory element binding proteins (SREBPs) transcriptionally regulate de novo fatty acid synthesis. In the situation of low intracellular sterol, decreased cholesterol level in the endoplasmic reticulum membrane and phosphatidylcholine level in the Golgi membrane, SREBPs are activated and binds to the promoters of the genes implicated in de novo fatty acid synthesis and cholesterol biosynthesis (16).
---
Fatty acid metabolism altered in tumor
Increasing research reveals fatty acid synthesis is greatly upregulated in breast cancer (17-20). Enhanced fatty acid uptake, storage and oxidation pathways are also activated (21,22) (Figure 1). High metabolic state reflects the fatty acid metabolism reprogramming in breast cancer. Cancer cells characterize the rapid proliferation, which increases the uptake of the nutrients required for the cells, also alters the pattern cell utilizing the nutrients.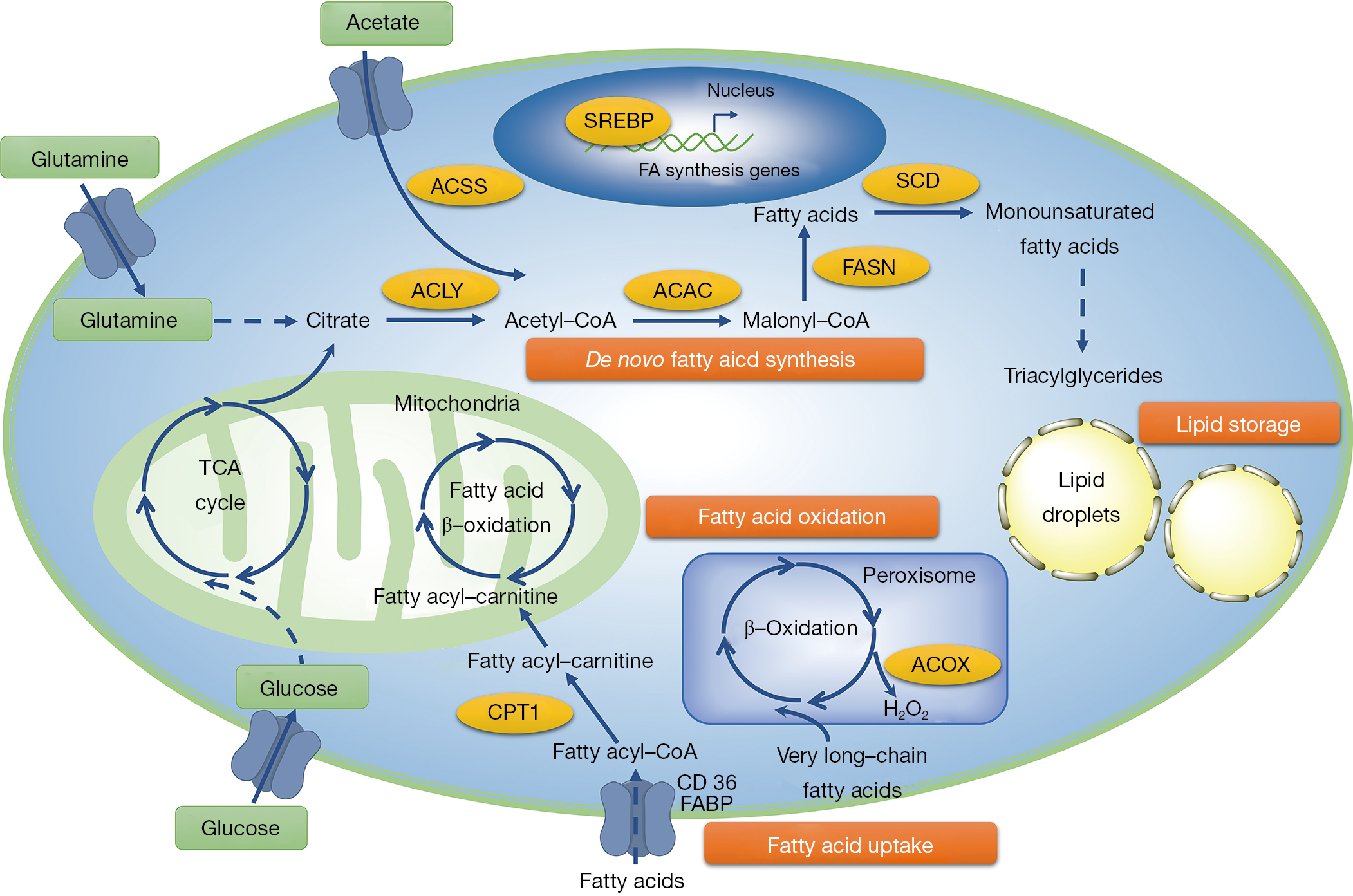 Figure 1 Altered lipid metabolism in breast cancer. SCD, stearoyl-CoA desaturase; ACLY, ATP-citrate lyase; ACSS, acetyl-CoA synthetase; ACAC, acetyl-CoA carboxylase; FASN, fatty acid synthase; SREBP, sterol regulatory element binding proteins; CPT1, carnitine palmitoyltransferase 1;ACOX, acyl-CoA oxidase 2.
Reprogramming of glucose metabolism is the first well-known abnormal tumor cell metabolism. Warburg discovered tumors perform high glucose uptake and ferment glucose independent of oxygen. In the presence of oxygen, tumors utilize aerobic glycolysis for energy, discarding the process of oxidative phosphorylation, called Warburg effect (23). Many intermediates produced in the glycolytic pathway can be transferred to the branch pathway, generating different biosynthetic precursors and promoting the biosynthesis of tumor cells (24) .
Under multiple metabolic stress state, building components of biological membrane, energy source and signaling molecules serve the malignant proliferation and survival of tumor cells. Mounting evidence suggests the malignant phenotypes of tumor cells depend on highly activated fatty acid synthesis and metabolism (25-27). Rapid proliferation is the main feature of the tumors, which requires large amounts of biological membranes. Activated fatty acid synthesis meets the demand of rapid generation of the membranes during proliferation. Fatty acid oxidation provides energy for vigorous growth. Invasion and metastasis are the most aggressive features of the tumor cells. During the process of metastasis, tumor cells often suffer the metabolic stress, including hypoxia and lack of nutrients, requiring fatty acid uptake and lipid storage to generate energy for survival. Drug sensitivity of tumor cells relies on the components and saturation of the lipid composed of membranes, which modulated by the process of the fatty acid synthesis and desaturation.
Activated de novo fatty acid synthesis
De novo fatty acid synthesis is observed in breast cancer. Compared to the normal breast tissue, increased ACLY and unsaturated fatty acids is found in breast cancer (18,19). Accumulating evidence revels the malignant phenotypes of breast cancer require the abnormally activated de novo fatty acid synthesis (22). Recently, multi-omics analysis on triple negative breast cancer samples reveals dysregulated fatty acid metabolism, especially fatty acid synthesis, is one of the main features in tumor tissue (28).
FASN
FASN is found related with patient prognosis and identified as tumor antigen OA-519 in breast cancer (17). High expression of FASN subsequently validate to be related to the proliferation, invasion, progression and drug resistance of multiple types of cancers, breast cancer included (29-33). Overexpression of FASN in breast cancer cells can significantly promote the proliferation (34). Upregulated FASN promotes the EMT process in breast cancer cells (35). Increased FASN expression activates de novo fatty acid synthesis, serving the proliferation and survival of energy storage and membrane biosynthesis in breast cancer cells. Activation of FASN is also related to the malignant transformation process. Compared to the normal breast, FASN is abundantly expressed in breast carcinoma and shows increased expression during the invasion (30). Silencing or utilizing the inhibitor of FASN suppresses the expression of HER2 (36-38). The inhibitor of FASN represses the breast cancer progression in HER2-transgenic mice (39). FASN inhibition decreases the expression the ERα, and suppresses E2-stimulated breast cancer proliferation and survival through the regulation of MAPK/ERα and AKT/ERα cross-talk (38). Inhibition of FASN increases the chemosensitivity of breast cancer (40,41). Utilizing the inhibitor of FASN enhances the sensitivity to paclitaxel in breast cancer cells (42).
ACLY
ACLY catalyzes the critical process in de novo fatty acid synthesis, converting the carbon sources from glucose and glutamine uptake by cancer cells into fatty acid biosynthesis. ACLY is highly expressed in breast carcinoma (18,43). Silencing or utilizing inhibitor of ACLY significantly suppresses the tumor proliferation and transformation (44,45). ACLY interacts with LMW-E isoforms of cyclin E, contributing to the lipogenesis, promoting the tumor proliferation, invasion and migration (46). ACLY is over expressed in the HER2-enriched subtype breast cancer (21).
ACSS
Cancer cell utilizes acetate as alternative carbon sources under condition of metabolic stress or hypoxia for fatty acid synthesis. ACSS directly synthesizes acetate to acetyl-CoA, forming the basic building element for fatty acid synthesis. The overall survival negatively correlates with ACSS2 expression in breast cancer patients (47). ACSS2 is observed gain of copy number in breast cancer. The expression of ACSS2 exhibits at a high level in invasive ductal carcinoma. Silencing ACSS2 impairs the viability of breast cancer cells and suppresses the growth of tumor in vivo (48).
ACAC
In de novo fatty acid synthesis, acetyl-CoAs generating malonyl-CoA catalyzed by ACACs is the rate-limiting step. ACAC is comprised of two isoforms, ACACA and ACACB. ACAC is greatly upregulated in various cancer types, breast cancer included. Compared to the normal breast, immunohistochemical study reveals ACAC exhibits abundant expression in breast carcinoma and shows increased expression during the tumor development (30). ACACA is reported to have interaction with BRCA1, expanding the role of BRCA1 in breast cancer (49-51). Silencing ACACA inhibits breast cancer cells growth and induces the cell apoptosis (52).
SREBP
SREBPs are transcriptional factors of the genes involved in lipid biosynthesis, comprising of SREBP-1a, SREBP-1c and SREBP-2 (16). Patients' prognosis negatively correlates with the overexpression of SREBP-1. Compared to the para-carcinoma tissues, SREBP-1 is highly upregulated in mRNA level and protein level in breast cancer. Silencing SREBP-1 inhibits the malignant progression of breast cancer cells (53). Either stabilization of SREBP-1a by nuclear protein p54(nrb) or activation of SREBP by PI3K signaling pathway promotes the breast cancer cells growth (54,55). Activated de novo fatty acid synthesis and upregulated SREBP-1 expression promote the breast cancer progression (56). SREBP-2 negatively correlates with breast cancer patient's prognosis and plays a crucial role on osteolysis induced by breast cancer (57).
Stearoyl-CoA desaturase (SCD)
SCD is the key enzyme generating the monounsaturated fatty acids during fatty acid synthesis. Phospholipids and sphingolipids are the vital components of biological membranes, produced by the de novo synthesis of fatty acids pathway. During the rapid and vigorous tumor proliferation, de novo fatty acid synthesis satisfies the proliferative demand of tumor cells by promoting the synthesis of organelle membrane. Increased lipid utilization is a characteristic of tumor aggressiveness (58). Dysregulation of membrane lipid anabolic metabolism can alter the composition of membrane lipids and thus affect membrane lipid-dependent biological processes. The length and unsaturation of the fatty acid comprised cardiolipin directly affect the binding of cytochrome c in the mitochondrial inner membrane, thus affecting the function of the electron respiratory chain and apoptosis (59). Inhibition of SCD reducing the desaturation of the fatty acids enhances drug sensitivity of tumor cells and induces apoptosis by affecting cardiolipin synthesis (60-62).
Enhanced fatty acid oxidation
Alteration in fatty acid synthesis meets the breast cancer malignant transformation demand for membrane synthesis, energy storage and generation of signaling molecules (63). Fatty acids can store the energy in the form of triacylglycerides, and generate energy by oxidation. Fatty acids are rich in energy for the production of large amounts of ATP. In the absence of nutrients, tumor cells depend on fatty acid oxidation pathways for survival. Analysis of mRNA expression associated with fatty acid oxidation indicates that in receptor positive breast cancers, fatty acid oxidation like de novo synthesis of fatty acids process, exhibits more active state (21). Utilizing fatty acids as an energy source in highly proliferating cells interferes with membrane formation, so quiescent cells would prefer to utilize fatty acid oxidation as the energy source (64). Compared to triple negative breast cancer, receptor positive breast cancers have lower rate of proliferation (65).
Evidences show during metastasis, disseminating breast cancer cells require for fatty acid oxidation to survive and repopulate. In AKR1B10High breast cancer lung metastasis model, AKR1B10 mediated cancer cells colony formation and recolonization in the lung all depend on fatty acid oxidation process (66).
The energy generation of stored triacylglycerides requires lipolysis to cleave the acyl chains from glycerol backbone. Thus, free fatty acids can be coupled to CoA and transferred to carnitine palmitoyltransferase 1 (CPT1), the rate-limiting step during the process of fatty acid β-oxidation. Formed acylcarnitine is shuttled into mitochondria for oxidation to generate ATP. CPT1A is overexpressed in various tumor types, lymphoma, breast cancer and ovarian cancer included, contributing to the proliferation, invasion and metastasis (67-69). Prolactin upregulates the mRNA level of CPT1A in breast cancer cell, promoting fatty acid oxidation to generate energy for cell growth, and facilitating breast cancer cell proliferation (67). In estrogen receptor positive breast cancer, CPT1A is validated to amplify and promotes proliferation (70,71).
Very long-chain fatty acids require shorten and fatty acid oxidation in the peroxisome. Branched chain acyl-CoA oxidase 2 (ACOX2) catalyzing oxidation in the peroxisome, acts as the rate-limiting enzyme. ACOX2-i9, the variant transcript of ACOX2, mainly expresses in the estrogen receptor positive breast cancer. Silencing the isoforms of ACOX2 greatly inhibits the colony formation (72).
More lipid droplets for storage
Fatty acids store the energy in the form of triglycerides, surrounded by phospholipid monolayers to form lipid droplets (73). Studies suggest that lipid droplets play a positive role in various inflammatory conditions, including tumors (74). Compared to nonmalignant breast cells, the number of lipid droplets is highly increased in breast cancer cells, and increases as the cells become aggressiveness (75). Perilipin 2 (PLIN2) is the lipid droplet associated protein, overexpressed in breast cancer patients, correlating with poor prognosis (76). The population of cells enriched with lipid droplets correlates with cancer stem cell characteristic in breast cancer cells (77). Metabolic stress and hypoxia promote the formation of lipid droplets, supporting the survival of tumor cells (78,79).
Increased fatty acid uptake
The volume of peri mammary adipose tissue is comparable to mammary glandular tissue and cell density, making a strong association between adipose tissue and breast cancer (80). More than that, adipocyte also accounts for a great portion of tumor tissue. In the mesenchyme of breast cancer, the cancer associated adipocyte (CAA) occupies the major part (81). CAAs can provide exogenous fatty acids feeding the adjacent cancer cells, which gives the cancer cells the alternative source of fatty acids to acquire for growth, except for the de novo fatty acid synthesis. Under hypoxia and metabolic stress, cancer cells increase exogenous fatty acid uptake. As tumor cells change from a rapidly proliferating to a metastatic state, their fatty acid metabolism profile shifts from relying on de novo fatty acid anabolic metabolism to uptake of specific fatty acids or selective release of lipid signaling molecules from membrane lipid components to activate signaling pathways that enhance the cells migration and infiltration.
CD36 and fatty-acid-binding proteins (FABPs) are key enzymes in the process of fatty acid uptake. Evidence reveals CD36 and FABPs contribute to the breast cancer progression. CD36, responsible for the exogenous fatty acids uptake in cell membranes as fatty acid translocase (FAT), is upregulated in tumor cells (82,83). High expression of CD36 significantly promotes metastasis and progression in a number of cancers, including breast cancer, glioblastoma and oral squamous cell carcinomas (84-86). Fatty acid uptake is increased in tumor cells due to the upregulation of the expression of FABP3 and 7 induced by hypoxia via hypoxia inducible factor 1α (HIF-1α) (79).
Deregulated cholesterol metabolism
Cholesterol is one of the vital components in the membrane and cholesterol homeostasis plays important roles in cell biological process, including cell proliferation and survival. Studies have shown that high level of cholesterol is positively related to breast cancer risk and negatively associated with prognosis compared to lower level of cholesterol (87,88). 27-hydroxycholesterol, the primary metabolite of cholesterol promotes tumor growth in estrogen receptor positive mice breast cancer models (89). Cholesterol in body comes from diet uptake or de novo synthesis. Both two sources of cholesterol are associated with breast cancer. Dietary cholesterol is positively correlated with breast cancer risk (90). Upregulated cholesterol synthesis is negatively correlated with prognosis of breast cancer patients and plays vital roles in cancer stem cell in breast cancer (91,92).
---
Conclusion and perspective
Multiple processes are activated in fatty acid metabolism to provide the building blocks for membrane biosynthesis, signaling molecules and energy sources during the progression of breast cancer. Our review elucidates the critical enzymes and processes implicated in the processes of de novo fatty acid synthesis, lipid storage, fatty acid uptake and oxidation of fatty acid, contribute to the malignant phenotypes of breast cancer, such as proliferation, migration, invasion and drug resistance. Silencing or utilizing the inhibitor of these key enzymes efficiently prevents the breast cancer progression. Especially for the tumors growing lipid-rich environment, like breast cancer, aiming at dysregulated fatty acid metabolism might provide an effective and promising strategy for antitumor therapy.
Fatty acid metabolism involves in multiple biological processes, with complicated feedback and regulation mechanism. The biological behaviors are diverse in different subtype of breast cancer. The single targeting to the one enzyme or process in fatty acid metabolism might not get persistent tumor-suppressive effect. Targeting multiple fatty acid metabolism process can be a potential strategy. The switcher turning the fatty acid metabolism into dysregulation state also requires deep exploration for successful cancer therapy.
---
Acknowledgments
Funding: This work was supported by grants from Natural Science Foundation of Beijing Municipality (7202212).
---
Footnote
Reporting Checklist: The authors have completed the Narrative reporting checklist. Available at http://dx.doi.org/10.21037/tbcr-20-53
Conflicts of Interest: All authors have completed the ICMJE uniform disclosure form. The authors have no conflicts of interest to declare (available at http://dx.doi.org/10.21037/tbcr-20-53).
Ethical Statement: The authors are accountable for all aspects of the work in ensuring that questions related to the accuracy or integrity of any part of the work are appropriately investigated and resolved.
Open Access Statement: This is an Open Access article distributed in accordance with the Creative Commons Attribution-NonCommercial-NoDerivs 4.0 International License (CC BY-NC-ND 4.0), which permits the non-commercial replication and distribution of the article with the strict proviso that no changes or edits are made and the original work is properly cited (including links to both the formal publication through the relevant DOI and the license). See: https://creativecommons.org/licenses/by-nc-nd/4.0/.
---
References
doi: 10.21037/tbcr-20-53
Cite this article as: Zhao J, Xie F, Yang Y, Wang S. Reprogramming of fatty acid metabolism in breast cancer: a narrative review. Transl Breast Cancer Res 2021;2:5.